Tribute and Memorial to
Robert Allen Johnson
November 5, 1913 - February 15, 2005
Click on Memorial picture to find Robert Allen Johnson's tribute
on the
I have been very fortunate in my life to be exposed to several common heroes. Bob Johnson is one of them. It is fitting and appropriate that I respectfully add my Father-in law to my brother Ken's web site.
Bob Johnson was born on November 5, 1913 near Braddyville, Iowa. He was born to Clyde A. Johnson and Grace E. (Lathrop) Johnson.
Bob passed away on February 15, 2005 at Clarinda Regional Health Center
He is laid to rest in Shearer Cemetery in Braddyville Iowa. He is laid as close as a mile from where he was born.
Bob's funeral announcement click on image to enlarge
Braddyville is located several miles South of Clarinda, Iowa where Bob lived the last years of his life.
Braddyville is a farming community of rolling farm land separated by rows of brush, and woods. Creeks run all through the area. From the time anyone can remember Bob Johnson hunted and trapped throughout the area when he was not farming. He was an extraordinary outdoorsman. He always seemed to be more comfortable in the woods and fields than anywhere else.
Before the war Bob left Braddyville with his brother looking for work. They worked across the country in places like Imnaha, Oregon, and in California. Bob drove teams of horses in various farming areas.
He was in Canby, California on December 7, 1941when the Japanese struck US soil without warning. Bob Johnson was 28 years old. Like so many of his fellow Americans he was moved to act on December 7, 1941 when the Japanese struck Pearl Harbor declaring war upon the United States of America. I can only imagine what went through his mind when he heard news of the attack.
Take the time and click on the Microphone to view a site and listen to some of the actual radio broadcasts
from several news agencies on December 7, 1941. I wonder which of these Bob Johnson may have heard.
And listened to President Franklin D. Roosevelt speak to the nation the December 8, 1941 the following day.
Click on the towers to hear President Roosevelt's radio address on December 8, 1941
A copy of President Roosevelt's address. Click on image to enlarge
The words must have hit very hard for Bob Johnson because by December 13, 1941 he had joined the United States Marine Corp in Denver, Colorado, apparently making the trip from Canby, California (according to documents provided). I wonder what he was thinking as he traveled the distance. I imagine he thought about destroying the Japanese and returning home.
After basic training Bob got his wish to fight the Japanese.
Assigned to active duty December 13, 1941
His war campaigns in the Pacific Theater from December 20. 1942 to May 30, 1943 and from November 10, 1944 to October 19, 1945:
May 26, 1942 - July 2, 1942 - The defense of Midway Island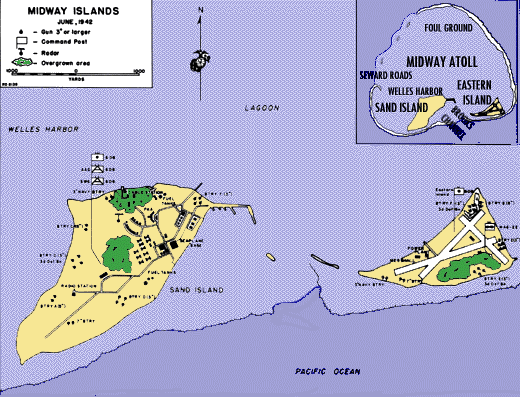 | | |
| --- | --- |
| 26 May | USS Kittyhawk arrives at Midway with crucial air and ground reinforcements. |
| 28 May | Japanese Occupation Force sails from Saipan for Midway. |
| 30 May | Two PBYs of VP-44 sustain damage in aerial contact with twin-engined Japanese bombers to westward. |
| 4 June | Battle of Midway commences, including air-strike by VMSB-241 against Japanese Striking Force; fighter-defense of Midway by VMF-221; and heavy anti-aircraft action by 6th Defense Battalion (reinforced). Midway sustains major damage from Japanese air-raid. |
| 5 June | VMSB-241 attacks and damages Japanese cruisers retiring to westward. |
| 6 June | Japanese communiqué states: "The Midway Occupation operations have been temporarily postponed." |
August 9, 1942 to February 8, 1943 - Action against the enemy at Guadalcanal. Visit this journal page to see another Marines account of what took place.
He was also on the island of Tulagi during this campaign.
April 1, 1945 to June 21, 1945 - Served at Okinawa on Ryukyu Island
Apr 01, 1945 — Marines and Army forces land on Okinawa, Ryukyu Islands
Jun 21, 1945 — Okinawa, Ryukyu Islands, is declared secured 82 days after the landing
Japanese surrender on September 2, 1945
Robert A. Johnson was a Private First Class
He became a Marksman - Rifle on August 12, 1943
His duties are listed as:
Machine Gun Crewman
Field Artillery Crewman
Guard
Bob Johnson Honorably discharged from the United States Marine Corp October 30, 1945
Here is a poem by Bob Johnson. He had taught his daughter the poem of Sam McGee. They could recite different sections back and forth between themselves. I imagine this poem about his experiences in the war is much like that of The Cremation of Sam McGee.
Experience of a U.S. Marine
By Robert Johnson
Bill Smith was a peaceful guy
An American boy for fair.
He had no quarrel with anyone
But a war was in the air.
The draft it made him pretty mad
'Cause he liked his freedom well.
The inside of an army camp
Looked to him like so much hell.
He'd followed a plow on an Iowa farm
And drawn a cowhands wage.
He'd worked beside the lumberjack
He loved the smell of the pine sage.
On December 7 of '41 he was out with
That special date.
The happiest guy in all the world
With his school ma'm and a Ford V8.
When he heard about Pearl Harbor
How the Japs had struck us there.
He could hardly believe the radio
It sure got in his hair.
He tho't, I've waited long enough,
A little too long it seems.
So to help make up for this lost time
I'll join the U.S. Marines.
I've heard that they are the first to fight
These soldiers of the sea
They carry the war where the enemies are
Now that's the outfit for me.
His mother and sweetheart kissed him
His father shook his hand.
His throat was full as he said goodbye
To his dear ones and his native land.
He joined up in Denver
Had to stand in line.
It seemed a lot of other boys
Craved a shot at those Nipponese swine.
The recruiting Sergeants gaudy blues
Made him stop and look again.
But when he looked into their eyes
He knew that they were men.
The Dr. looked him over
And said "You're all O.K."
The old first Sergeant took his oath,
Another fighting man was on his way.
T'was his first trip by Pullman
The chow and the service were grand.
They cheered him at every station
And even broke out with a band.
He got to San Diego
A Sergeant met him there.
Took him to the Marine base
And cut off all his hair.
They throwed him into boot camp
Oh! What an awful place.
With every kind of critter
That's known as the human race.
To get his uniform he waited
There in line for hours.
Then he could walk half way across the deck
And never move the trousers.
There was a snooty Corporal there
The rules said call him "Sir".
Bill swore, "If I ever make two stripes
I'll skin off all his fur."
He had to salute that rascal
And shine his liberty shoes.
Before the second day was o'er
He was singing those boot camp blues.
The chow was good but awfully scarce
Of candy there was none.
Bill swore he'd barbecue that D.I.
And eat the son of a gun.
He told that D.I. where to go
They throwed him in the brig.
Then handed him a shovel
And showed him where to dig.
They took him to the rifle range
Said, "This is how my lad."
Bill found some brand new muscles
He didn't know he had.
When he was tired of snappin in
And his muscles all were sore.
Along came the coach and said
"my lad, we'll just snap in some more."
Then when record day came round
He shot a darn good score.
He'd been working awfully hard
Before we ship him out.
We'll give him 6 hr. liberty
And let him roam about.
He went to San Diego
There was nothing he could find.
There wasn't any women
And there wasn't any wine.
He sailed for Pearl Harbor on Washington's
Birthday.
Rarin' to get right close to a Jap
With nothing in his way.
He went to fair Hawaii
Where the passion flower blooms.
But the only Hulu he could find
Was in the Honolulu rooms.
He started out to Midway
On the_13th_day of December_. **
Got there ahead of Tojo
In time to balk his play.
When he felt the bombs a bursting
And heard the zeros roar.
He knew he joined the right outfit
If he wanted to go to war.
When he saw a zero fall in flames
Before his roaring twenty.
He yelled "Come on you yellow sons of hell
And we will give you plenty."
The battle won and all secure
He returned to Pearl Harbor.
They gave him another 6 hr. leave
So he could visit a barber.
On _August_ _1942_ he sailed again **
Not knowing where he was bound.
But he had a hunch that there would be a fight
'Ere his feet had touched the ground.
He sailed the seas for _30__days **
Then landed on Tulagi.
Snipers were on every hand
And every plane a bogey.
The situation well in hand
As per usual with Marines.
He was getting mighty hungry
So he looked around for beans.
He found the chow dump all intact
As well as one could wish.
But all those Japs had left behind
Was wormy rice and fish.
For three long weeks he ate the stuff
And got the dysentery
When he got some G.I. grub
He ate all he could carry.
All quiet on Tulagi
The Nips had all been tamed.
They took him over to Guadalcanal
To shoot at aero planes.
Everyday the Japs came o'er
With 26 high bombers
And a flock of whining zeros
A lurking on the corners.
He'd just shot down a zero
And was feeling mighty big.
"Hey," yells the Sergeant. Pvt Smith
there's a garbage pit to dig."
Now Pistol Pete had a 6 in. gun
Concealed in a jungle valley.
And every time the Marines would start to chow
He'd drop one in their galley.
Maytag Charley every night
Would drop a flare or two.
To show that Jap ship where we were
And tell him what to do.
Then a battleship would open up
And give us all he had.
He hit a few darn good Marines
And made 'em awful mad.
The navy sent a message
Says, "the Japs are breaking thru.
They will try to land 'ere morning
Spite of all that we can do."
So the gun crew packed in a driving rain
mid shrapnel from Pistol Pete.
And went down to a jungle beach
Just to have a grandstand seat.
They set their guns up in the dark
And the did the job alright.
Their few short weeks of training
Served them well that night.
The Japs they landed somewhere else
It made him pretty mad.
He didn't get a single shot
After all the work he'd had.
The army landed on our shore
They bro't a lot of peaches.
They wouldn't let the Marines go near
Where they were stacked upon the beaches.
Then came the daily air raid
The army scattered far and wide.
Under logs and in old shell holes
Just anyplace to hide.
The all clear sounds the army crawls out
And came back to the beaches.
They had a lot of corned beef left
The Marines had all the peaches.
Now the armys taking over
The Marines have done their job.
We'll go aboard a transport
And wrap yarns with gob.
Bill's proud to be a fighting man
To keep his country free.
And he's planning all the things
He's gonna do on his next 6 hr. liberty.
** Dates were blank added at time of writing
I want to take the time and thank June Johnson for lending the documents and some paperwork to authenticate the history of her husband.
UNDER CONSTRUCTION